Trading Card Spotlight Jerry Parker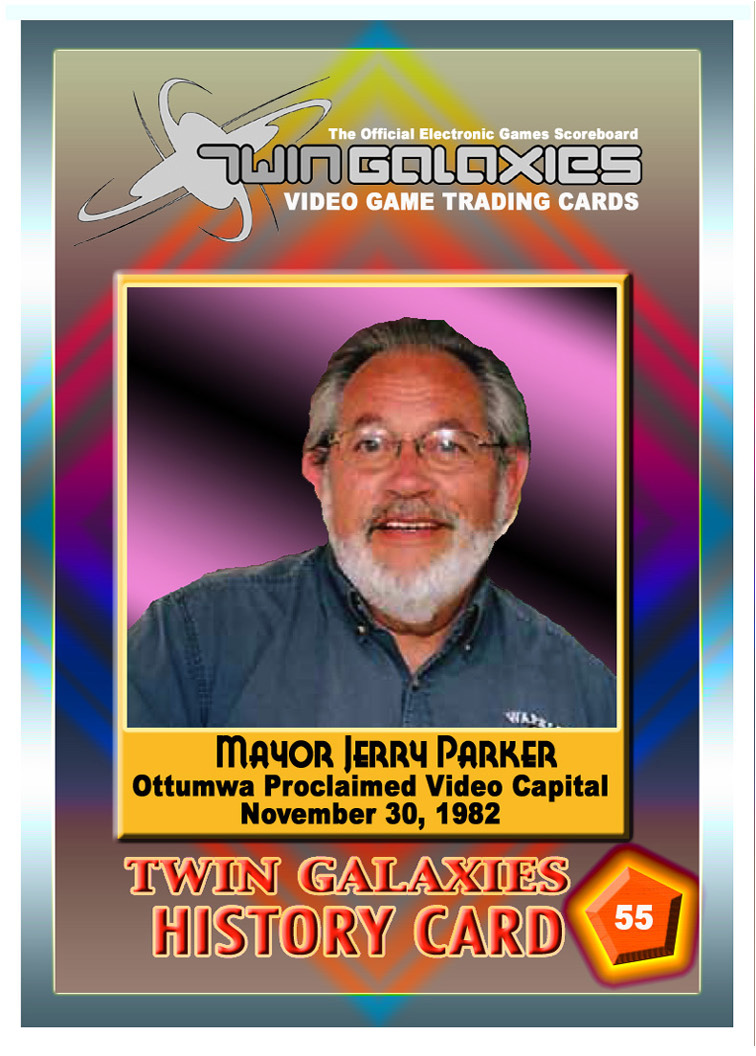 Our next Trading Card Spotlight features Jerry Parker who currently is displayed on card number 55, from the Superstars of 2011 Collection. Jerry Parker was the Mayor of Ottumwa, Iowa in 1982. 35 years ago, on November 30, Jerry crowned Ottumwa, Iowa the Video Game Capital of the World. It was a bold move made at a time when many other cities were legislating against video games. To celebrate the "video game legacy." Click here. In 2009 he was honored with being the founding father of the video game capital with a special ceremony to declare Ottumwa, Iowa to host the International Video Game Hall of Fame. Jerry is still involved in his home town of Ottumwa as a County Supervisor.

How did you become Mayor of Ottumwa?
I had served on the City Council for 8 years, then ran for Mayor.
How long were you Mayor and what were some of the major challenges?
I was mayor for 6 years. The major challenges were finances and long-range planning.
Did you always know that Ottumwa could still be the Video Game Capital of the World today?
With Walter involved, Yes!
Are you still involved the town of Ottumwa, and what are some of your roles?
Yes, I am, and have been for 20 Years as a county supervisor.
When did you first meet Walter day and where was it at?
In 1982 in my office.
If you could describe Walter Day in one word, what would that word be and why?
Innovative, he thinks for himself and is not afraid to take a new path.
What was your opinion of Twin Galaxies arcade in Ottumwa, Iowa back in the 80s?
Family Friendly and a Community Asset.
If you could own one arcade game or pinball game, what would it be and why?
Pac-Man, it is the game I know the best.
What did you want to be when you grew up as a kid?
To be a draftsman in an engineering department.
What does it take to be Mayor of Ottumwa?
Back in the 80's, it took management skills and understanding finances.
Do you remember your first video game arcade you played at and what do you remember about it?
Twin Galaxies, it had a great atmosphere and was relaxing.
Did you ever think when you were younger you would be on a Video Game Trading card?
I was raised in a home with no electricity or plumbing. Not a bright future.
Do you prefer playing video games alone, against friends or online against the world and why?
I prefer playing alone.
Do you learn anything from playing video games?
Yes, you learn to challenge yourself to try harder to be better.
Are video games good for relieving stress?
Yes.
What springs to mind when you hear the term 'Ottumwa, Iowa'?
My Home Town!
Where do you see Ottumwa, Iowa in the next 10 years?
Slowly improving as a place to live and becoming more ethnically diverse daily.