Fairfield Trading Card Spotlight - Mike Ragogna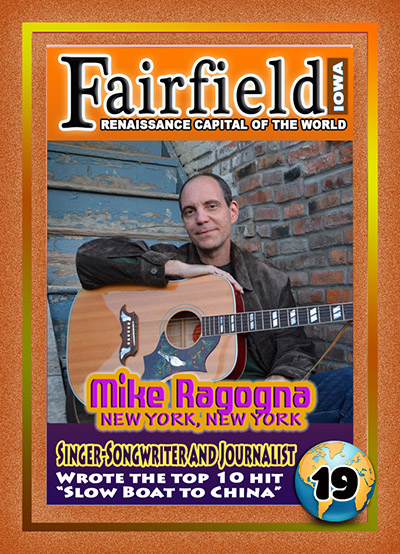 Our next Fairfield Trading Card Spotlight features Mike Ragogna, who is displayed on card number 19, from the Fairfield Collection. Mike has been a success in the music industry. He has been a singer, songwriter, producer, voiceover talent, and a journalist for most of his life. He has been involved in projects such as the musicals Annie, Hair and Big River. Mike has performed at a Bruce Springsteen tribute concert. He has recorded 7 albums—Safari in America, The Almost Brothers, Body Politic, Minefield Diaries, Writer's Block, Valentine's Day, and Summerland. Mike grew up in New York and has lived in various major American cities before coming to Fairfield where he taught music. Mike has interviewed thousands of musicians and blogs on internet sites to spread the word of music and his passion of song.

What other instruments do you play and what is your favorite?
Ears is my favorite instrument. I live vicariously through others' recordings since I had my shot and it didn't quite work out. I'd like to say I play guitar and keyboards but that would be an insult to guitar and keyboards. But I still sing and harmonize to everything, the reason why I'm no longer invited to parties or my kid's school events.
What musicians do you admire today and who did you look up to as a child?

Lately, my favorite "young" group is Darlingside who seemed to have been sent to us from Heaven, the music is so beautiful. I'm also a huge fan of former Jack's Mannequin and Something Corporate leader (and cancer survivor), Andrew McMahon. To me, his song "Cecilia And the Satellite" about a father/daughter relationship is perfection. I also like jazzer Peter Cincotti, popsters Jason Mraz, John Mayer, Matt Nathanson, Matt White, Matt Hires, and I'm always rooting for Dylan Gardner, a young kid who really loves The Beatles and has made those kinds of recordings.
What are your favorite musical groups today past and present?
Everyone I just mentioned applies to current artists or bands, plus I still love my favorite singer-songwriters, Paul Simon, Bruce Springsteen, Randy Newman, Harry Chapin, Carly Simon, James Taylor, Elton John, Nick Lowe, Elvis Costello, Carole King, Gordon Lightfoot, Jim Croce, Cat Stevens, Hall & Oates, Crosby Stills & Nash, Jackson Browne, early Tom Waits and Joni Mitchell when she's not being super-cranky in the press. I LOVE Scott Walker and The Walker Brothers. Same for Miles Davis, Herbie Hancock and Dave Brubeck. I still miss Phoebe Snow, who probably had the best pipes in blues-pop-jazz-rock. I'm still trying to appreciate Bob Dylan beyond Blood On The Tracks, Planet Waves and Desire. I looked up to all those artists when growing up, as well as The Eagles, Steely Dan, The Hollies, Journey, Queen, America, Eric Clapton, The Doobie Brothers, Boston, The Tubes, Blondie, Squeeze, Rockpile, and of course, The Beatles. Oh, and The 5th Dimension, The Carpenters, The Manhattan Transfer, and of course, like everyone else on the planet (even those who won't cop to it), The Partridge Family.Over the years, I became good friends with Rupert Holmes and Steve Forbert, so I probably should have listed them higher on this list. FYI, Rupert's Widescreen album is one of the best albums ever made. I also should mention how much I loved and respected Dobie Gray and his music when he was alive. He was the only recording artist brave enough to join me on my anti-war recording/video "Home" during the Bush years, post the national shaming of The Dixie Chicks when they protested on the cover of Rolling Stone. We made two videos for "Home," one with Dobie on camera in Nashville (version 2) and one with just me in New Orleans and at the Santa Monica beach and pier. Both versions are still up on YouTube and I believe it was Dobie's last recording.
Where did you grow up and when did you move to Fairfield, Iowa?
I grew up in Manhattan, New York, and after living in about a dozen places, after spending 11 years in LA, I moved to Fairfield back in 2010.
Growing up, what did you see yourself doing as an adult?
I originally wanted to be an astronaut, but my mom indoctrinated me pretty early on into the arts. Wished I was an astronaut though.
What comes to mind when you hear the word 'Fairfield'?
A lot of well-intentioned people congregating to somewhere they could either escape the world's harshness or meditate to lower its stress level.
Did you ever think when you were younger you would be on a trading card?
Ha, maybe on a baseball card. I forgot to mention I loved baseball as a kid, was named after Mickey Mantle, and I owned all of the 1969 Mets cards as well as the special edition World Series cards. Dad game them away when I left for college, thinking baseball cards were for kids.
When did you first meet Walter Day and where was it at?
I remember it was a moonlit night on the Seine, Walter walked up to me and said, "The raven flies at midnight." I replied, "Are you trying to sell me trading cards or something?" Or I first met him meditating by him in the dome, maybe the latter.
If you could describe Walter Day in one word, what would that word be and why?
Immortal. Isn't it obvious why?
Are you still involved with music and what role do you play?
I still contribute to The Huffington Post weekly, interviewing musicians, actors, producers, industry icons and execs, and sometimes talented friends because I want to help where I can. I haven't written any new songs since becoming a father back in 2013. I wonder if there's a coincidence, one I would never ever change because he's an amazing kid.
What is your favorite type of music and why?
Lyrically smart or clever songs that have adventurous or emotional melodies and chords still touch me. It could be any genre although I'm still partial to the good ol' smart singer-songwriter.
How is your involvement in the music industry been important to you?
My name is on hundreds and hundreds of compilations, box sets, reissues, and more, so that was very satisfying. Also, at age 17, I wrote the song "Peter Stays and Spider-Man Goes" for the college-marketed album Spider-Man: Rock Reflections Of A Super-Hero. My lyrics "It's like fighting both sides of a mirror" were utilized as the concept for the album cover, which was drawn by Marvel Icon John Romita. Also, I recorded 7 albums—Safari in America, The Almost Brothers, Body Politic, Minefield Diaries, Writer's Block, Valentine's Day, and my favorite and most satisfying to me, Summerland. I wrote and recorded songs for the Tippi Hedren/Melanie Griffiths movie soundtrack Roar, and sang on a bunch of jingles in the early '80s. I was signed to Mary Tyler Moore's MTM label where my label mates, Girls Next Door, recorded a few of my songs and had a top ten hit with my "Slow Boat To China." I was mentored and eventually produced by Tommy West who also produced his best friend in college, Jim Croce. There's some more stuff like my becoming a producer for the label and producing tracks with folks like Billy Ray Cyrus and others but I'll stop hereSadly, I thought "living" was spending all my years since 14 years in the music business (RCA's Joe D'Imperio tried to sign me as a teen) instead of having a fuller, more expanded life. Success and achievements took precedent over relationships, etc., and I regret not having more balance. However, in my later years, I've been discovering richer aspects of life, so all is not lost, Horatio. I've been very blessed with a wonderful career and now life.
Did you play Video games growing up and what were some of your favorites?
Pong. It was just Pong. But then came the late '70s and I played Galaxian and Asteroids. Then it got really good and I played Ms. Pacman, Frogger, Q-Bert, Centipede, Joust, and Pole Position. I sang the Joey Ramone-ish lead vocal on Pole Position's TV commercials that ran on Saturday Night Live and MTV in the early '80s. "Hey…you look like a real jerk!" That was the announcer, not me.
If you can design your own video game, what would it be about and who would be the main character?
I would invent a game that made it fun for a kid to do all his homework and study for tests. This game will never, ever exist.
What are your opinions about today's generation of video games?
They're amazing, I wish I had them when I was a kid although I hate how complex the controllers have gotten. Kids these days get around that by playing everything on their PCs and use keyboard controls. Smart, these kids are.
Do you believe some video games are too violent and lead to violence in America today?
Absolutely! On the other hand, my kid plays one-guy-kills-the-other-guy games for hours, though he dislikes the more gothic or creepy ones. That horse is out of the barn, there's really nothing we as a culture can do about it now except to keep an eye on the nippers and make sure games aren't affecting them too badly.
What do you think about games that you can play the music along with the artist, Guitar Hero, Rock band, etc.?
Game over. Those days are gone, the kids don't play those games anymore. They're too busy hunting and killing things on tiny cell phone screens to be bothered.
If you could own one arcade game or pinball game, what would it be and why?
Ms. Pac-Man because I used to get crazy high numbers.
What does it take to be an up and coming musical performer in today's society?
Over the last decade that I've been interviewing artists, etc., I've asked the question, "What advice do you have for new artists?" Of the 2000+ interviews I've conducted, with all the answers to that question, I have to honestly say I have no idea. It's about groping around in the dark doing the best you can to make sure your flashlight has batteries. Otherwise, it's probably about having good karma and working hard.
What do you see yourself doing in the next 10 years?
I'm old now, so that's not a nice question, young man! Fine…pushing up daisies, okay? Being worm food, alright? Now get off my lawn and go home and play some Pole Position already