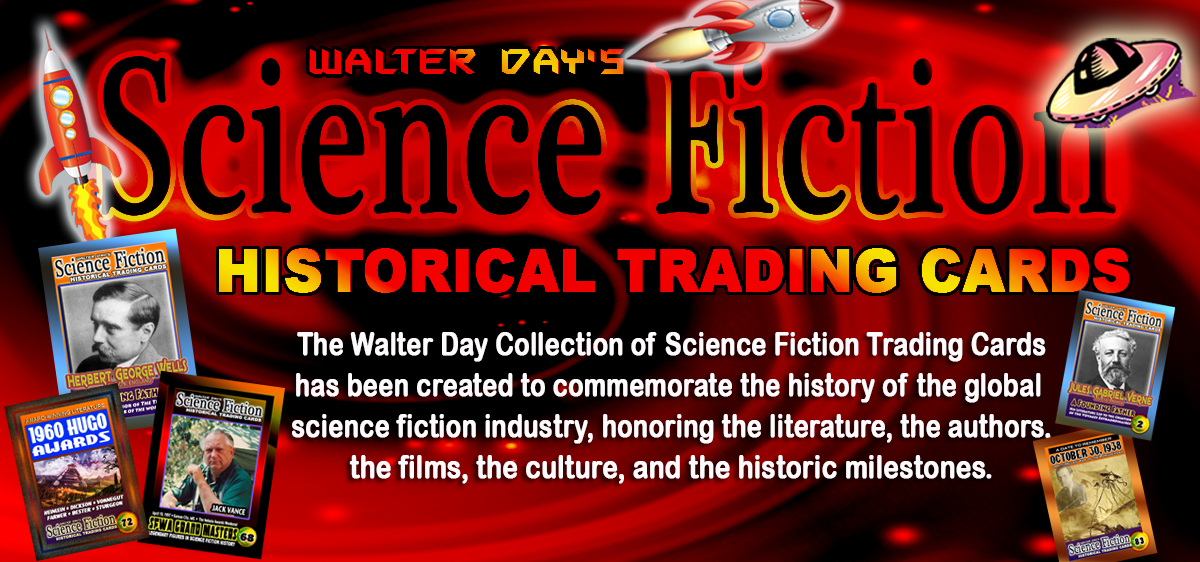 For nearly 100 years, science fiction—affectionally called "speculative fiction" by master story-tellers like Robert Heinlein and Ray Bradbury—has inspired the world with a sense of wonder along with the expectation that the "improbable" will someday become reality. From the timeless works of the 19th Century (20,000 Leagues Under the Sea [1869] and The War of the Worlds [1898]), to today's modern cinematic marvels of the silver screen (Avatar [2009] and Guardians of the Galaxy [2014]), science fiction has been a prominent feature of our global culture. It is an understatement to say that Sci-fi has been the source of limitless entertainment for the entire world. In recognition of the cultural importance of the science fiction genre, the Science Fiction Historical Trading Card Set has been created to commemorate the history of the global science fiction industry, honoring the literature, the authors, the films, the culture, and the historic milestones.
NEW CARD RELEASES:
On November 16, 2015, four new trading cards were released bringing the card set up to 28 different cards in print. The new cards are: #52 Samuel R. Delany, #60 British Science Fiction Awards, #67 Jack Vance, and #68 Michael Moorcock.
AWARDS PRESENTED THAT HONOR THESE CARDS:
#28 SFWA, #42 David Brin, #50 Larry Niven, #51 Robert J. Sawyer, #52 Samuel R. Delany, #55 Greg Bear, #56 Mike Resnik, #57 Gregory Benford, #58 Nancy Kress, #59 Kevin J. Anderson, #61 Kay Kenyon, #63 Sharon Joss, #64 Jack McDevitt, #67 Michael Moorcock, #68 Jack Vance, #90 BSFA.
CHECKLIST OF CARDS (First Set - #1-100):
1. H. G. Wells
2. Jules Verne
3. Robert Louis Stevenson
4. George Orwell
5. Edgar Rice Burroughs
6. Isaac Asimov
7. Arthur C. Clark
8. Mary Shelley
9. Aldous Huxley
10. Ray Bradbury
11. Amazing Stories Magazine
12. Robert Heinlein
13. Sir Athur Conan Doyle
14. Howard Phillips Lovecraft
15. Alfred Eaton Van Vogt
16. Andre Norton
17. Locus Magazine
18. Orson Scott Card
19. October 1, 1950 - Galaxy Magazine Launches
20. Forrest Ackerman
21. "Doc" E.E. Smith
22. Philip K. Dick
23. Frank Herbert
24. Clifford Simak
25. Kate Wilhelm
26. Jurassic Park - Cinefantastique Magazine
27. SFWA 50th Anniversary
28. A Date to Remember - Asimov Begins Writing Foundation
29. Connie Willis
30. IF Magazine - The Moon is Harsh Mistress
31. Vernor Vinge
32. X-Files - Cinefantastique Magazine
33. Brian Aldiss - SFWA Grand Master
34. Robert Silverberg - SFWA Grand Master
35. George Lucas - Cinefantastique Magazine
36. SHS Event
37. Octavia Butler
38. A Date to Remember - Frankenstein Published
39. Star Trek - Cinefantastique Magazine
40. Nora K. Jemisin
41. Blade Runner - Cinefantastqieu Magazine
42. David Brin
43. Phillip K. Dick
44. James Gunn
45. Joe Haldeman
46. A Date to Remember - The Twilight Zone
47. Cinematic Milestones - To Serve Man
48. Poul Anderson
49. Bradford Marshall Day
50. Larry Niven - SFWA Grand Master
51. Robert J.Sawyer
52. Samuel R. Delany - SFWA Grand Master
53. A Date to Remember - A Voyage to the Moon
54. Norman Spinrad
55. Greg Bear
56. Mike Resnick
57. Gregory Benford
58. Nancy Kress
59. Kevin J. Anderson
60. Robert E. Howard
61. Kay Kenyon
62. Liza Groen Trombi
63. Sharon Joss
64. Jack McvDevitt
65. C. J. Cherryh - SFWA Grand Master
66. Chuck Gannon
67. Michael Moorcock - SFWA Grand Master
68. Jack Vance - SFWA Grand Master
69. A Date to Remember - Cleve Cartmill's "Deadline" Investigated
70. Bud Sparhawk
71. 2013 Hugo Winners
72. 1960 Hugo Awards
73. Jane Yolen - SFWA Grand Master
74. Cat Rambo
75. Michael Swanwick
76. Naomi Novik
77. R.A. Lafferty
78. Nicola Griffith
79. 2014 Nebula Winners
80. Fred Saberhagen
81. 1983 Nebula Winners
82. A Date to Remember - Metropolis Film
83. A Date to Remember - War of Worlds Radio Hoax
84. 1971 Nebula Awards
85. Cordwainer Smith
86. Book Cover - Uprooted
87. Alexei Panshin
88. Book Cover - The Fifth Season
89. Damon Knight - SFWA Grand Master
90. A Date to Remember - Inauguration of Hugo Awards
91. Jim Baen
92. 2016 Nebula Awards Winner (Group)
93. Ellen Datlow
94. Steve Barnes
95. M.C.A. Hogarth
96. Tanya Huff
97. Pat Cadigan
98. Robert Charles Wilson
99. Charles N. Brown
100. GWR
101. Lezli Robyn