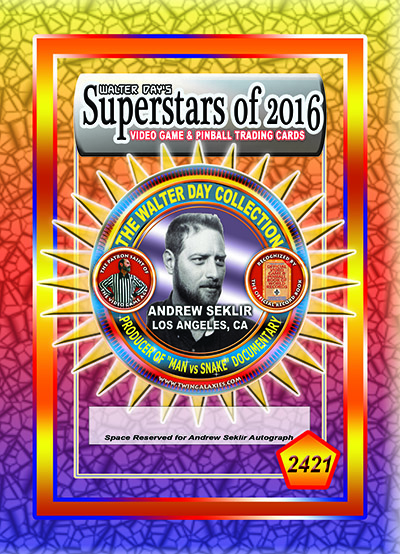 Our next Trading Card Spotlight features Andrew Seklir, who is displayed on card number 2421, from the Superstars of 2016. His documentary film trading card is featured on card number 2495. Andrew is one half of the team that directed, produced and edited the documentary "Man vs. Snake". A story of the arcade game Nibbler and the fight to set the world record. This successful documentary was featured in many film festivals over the past couple years and can also be seen on Netflix. Andrew has worked for many studios such as ScyFy, HBO and Xbox Studios. Andrew has also been a part of the Battlestar Galactica franchise as a producer and editor of the show.

What games today do you play and what are your favorite genres of games?

I still play classic arcade games and older console games via emulation on my home-built arcade cabinet ("Robotron", "Defender" etc.), but I also play games on my PS4, some recent ones include smaller games like "Firewatch" and "Inside", as well as some of the mega releases such as "Titanfall" and "Star Wars Rebellion".