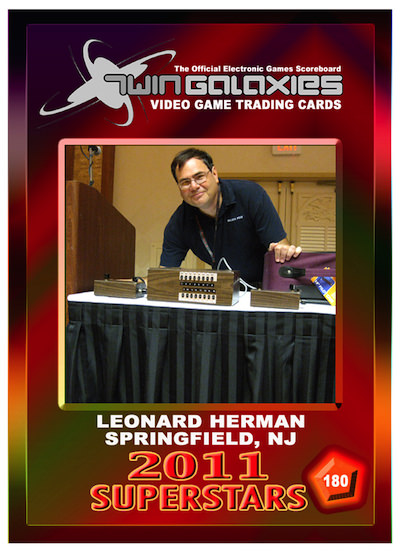 Our next Trading Card Spotlight features Leonard Herman, who is displayed on card number 180, from the Superstars of 2011 and who is also featured on cards 514 and 1951. Leonard is the author of the book "Phoenix: The Fall and Rise of Videogames". The 4th edition (retitled Phoenix IV: The History of the Videogame Industry) just published at the end of 2016 and is one of the most comprehensive video game history books available today. With nearly 830 pages of information, this book is a must for gamers everywhere. Leonard has also written articles for video game outlets such as Electronic Gaming Monthly, Supercade and GameSpot. He has also founded Rolenta Press, which has published video game books by such as authors as the late Ralph Baer, the father of the home video game console. In 2003, Leonard was awarded the Classic Gaming Expo Achievement award and has been an advisor for the National Videogame Museum in Frisco, Texas.

Do you believe some Video Games are too violent and lead to violence in America today?

No. Videogames were always deemed as violent ever since Death Race appeared in 1976. I wouldn't be surprised if some people claimed Pong was violent because you had to 'hit' a ball. However, the violence is no worse than it is in movies. However, what makes videogames standout is that they are interactive. If anything, (but remember, I'm not a psychiatrist), people take their frustrations out on videogame enemies. I think the numbers are very, very low of people who made a transition from videogame violence to real life violence.