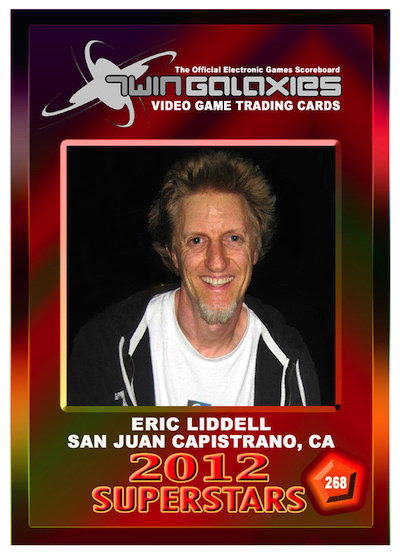 Our next Trading Card Spotlight Features Eric Liddell who is displayed on
card number 268
, from the Superstars Collection of 2012. Eric holds the world record for the Arcade and MAME version of the game Solarquest. He also is a huge contender on many of the Williams arcade games, such as Defender and Joust. Eric collects classic arcade games and loves to try and break new records when he has time. He also is looking to marathon arcade games and his goal is to marathon Defender.
Do you remember your first video game / arcade you played and what do you remember about it?
I remember being a 10-year-old kid in 1978 living in Traverse City, Michigan when I first started seeing arcade games pop up around town, I was instantly obsessed. I would beg my parents for quarters everywhere we went so I could play games while they shopped. The first games I played were all the early classics starting with Space Invaders, Pac-Man, Galaxian, Asteroids, Defender, Star Castle, Centipede and a few others during that initial 78-81 boom time. Most places around town had some combination of those games. One of my favorite things was to be dropped off downtown at Papa J's Pizza. They had a good selection of pinballs and a Defender. I'd go with 5 bucks to last the whole day and when it was gone that was it, time to go home.