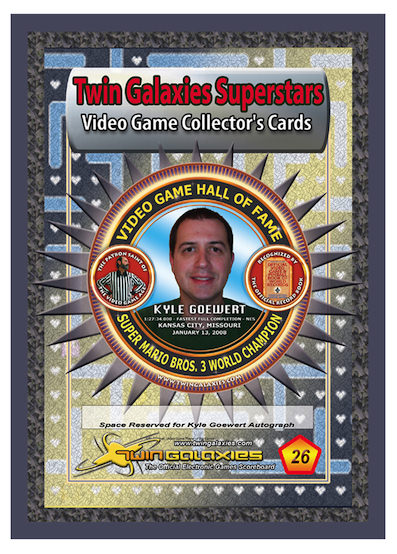 Our next Trading Card Spotlight features Kyle Goewert, who is displayed on card number 26 from the Superstars of 2011 Collection. Kyle is also featured on cards 327A and 554. Kyle is one of only a few that have competed in the Kong Off, an annual Donkey Kong arcade championship. Kyle has achieved the kill screen as well as scoring over one million points on Donkey Kong with 1,012,800. Kyle has the complete NES game collection of every game created in North America. Living in Kansas City, MO, Kyle also fulfilled his dream by creating a website that sells classic video games and other vintage items. You can visit his site at www.JustGoVintage.com.

When did you first meet Walter Day and where was it at?

I first met Walter Day at the 2010 Big Bang event in Ottumwa, Iowa. I was in communication with him prior to the event because I was interested in bringing some of my original NES collection for the museum room at the event (which I brought). I met Walter there along with Steve Wiebe& Billy Mitchell prior to achieving my first Donkey Kong kill screen. I didn't realize that would later briefly achieve 4th place on the Donkey Kong arcade high score board on Twin Galaxies.