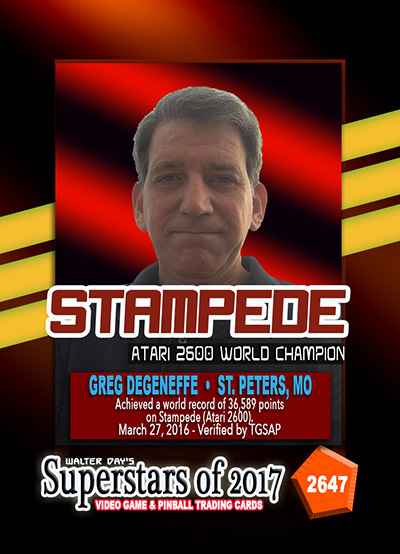 Our next Trading Card Spotlight features Greg Degeneffe, who is displayed on
card number 2647
from the Superstars of 2017 Collection. When it comes to Atari 2600, Greg is among the best in the world. He holds over 150 records on Twin Galaxies International Scoreboard. Games such as Kaboom, Carnival and Stampede. He looking to break records on M.A.M.E. games in the near future. Greg once played the arcade Gauntlet for a 36-hour marathon, one of his proud achievements. Greg was honored in 2017 with his very own trading card and became a new member of the Walter Day Collection.
Do you remember your first video game / arcade you played and what do you remember about it?
My first experience with arcade games goes back to 1976. There was a bowling alley within walking distance that I would frequent after school. Mostly pinball machines tucked away in a small game room, but for me it was the start of the golden age of video games. My favorite pinball machine was "Hocus Pocus". Great memories.