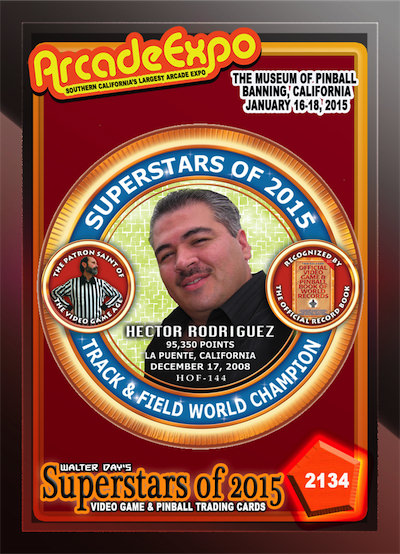 Happy Holidays !
Our next Trading Card Spotlight features Hector Rodriguez who is displayed on card number 253, from the Superstars of 2012 Collection. Hector is also displayed on cards 300F and 2134. Hector is a true competitive gamer and has a very successful gaming resume. He competed in the Nintendo World Championship in 1990. In 2000, he won an all expensed paid trip to the X-Games and entered a Tony Hawk Pro Skater tournament where he finished 6th. He won a Tony Hawk's Pro Skater tournament in 2001. Hector has numerous world records on games of all kinds on such platforms as PlayStation, Nintendo GameCube and Sega Dreamcast to name a few. He is also a record holder on arcade games such as Track & Field and Jail Break. Hector is a serious weightlifter when he is not playing video games and working.

If you could own one arcade game or pinball game, what would it be and why?

Well, I own 25 arcade games and 180+ PCBS, but if I had to be left with just one it would be a toss-up between Hyper Sports or Track and Field for 2 different reason. Track and Field is easy mindless play for me so I can zone out and just relax. If I want a challenge Hyper Sports is one that I have yet to master but it can become frustrating at times. So, I think I'm leaning towards Track and Field.