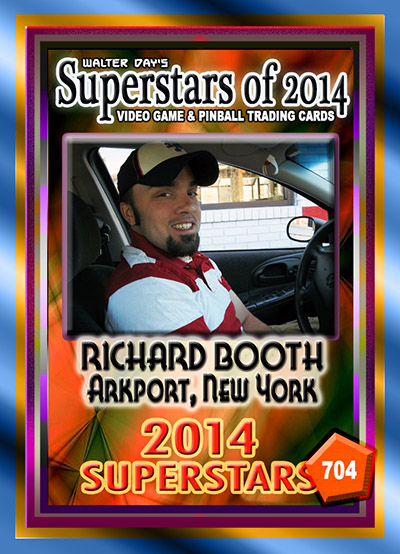 Our next Trading Card Spotlight features Richard Booth, who currently is displayed on
card number 704
from the Superstars of 2014 Collection. Richard has devoted the last 7 years to Twin Galaxies and is determined to keep Walters vision he had in 1981 alive. Richard is more of a fan than a gamer to beat world records. He enjoys being behind the scenes and spreading the word of Walter and Twin Galaxies in the gaming community. If he plans to submit a score one day it may be on his favorite game Tetris, but with the Nintendo Switch out and his favorite system, we may see some of those records come out from Richard.
Which company makes the best games and why?
Nintendo, and it's not even close. Nobody makes a game with as much love and craftsmanship like Nintendo. The smallest example I have of this is that the games are finished when they release. There's no need for a day one patch, and that's huge to me. It makes the price point seem worth it. Secondly, the level of detail they put in their games is incredible. Think about it, who would have ever thought that wearing metal on your person in a thunderstorm in Breath of the Wild would could result in electrocution?