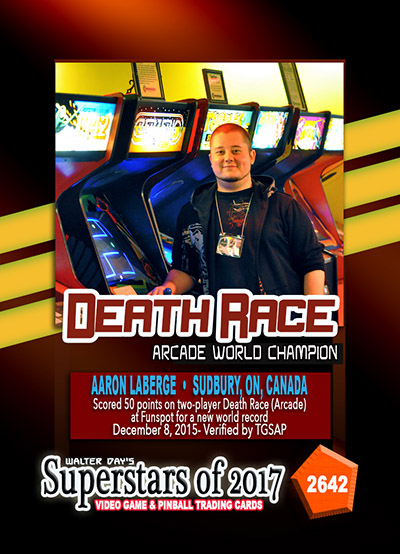 Our next Trading Card Spotlight features Aaron Laberge, who is displayed on
card number 2642
from the Superstars of 2017 Collection. Aaron's trading card will be presented and featured the weekend of March 18
th
, 2017 in Banning, CA. Living in Canada, Aaron has been a gamer since the Atari 2600 days. He plays on all platforms as well as PC and arcades. Aaron holds a few records on the Twin Galaxies scoreboard such as Death Race on the Arcade and Crossy Road on the Android tablet.
What is your favorite singe player game and favorite multiplayer game?
My favorite game in either genre is pretty much impossible to pick. The single player game I play most often is probably Heroes of Might & Magic 3 or Mount & Blade: Warband, both of which have an absurd amount of depth and replay ability, despite being quite a few years old now. For multiplayer, it's equally impossible, I love the Quake series and always have, same with Unreal Tournament and Battlefield, but newer games like Overwatch are also fantastic and that doesn't even account for MMOs like Diablo etc. It's honestly impossible to choose for me, I love tons of multiplayer games and it largely depends on what everyone decides we want to play for the time given.