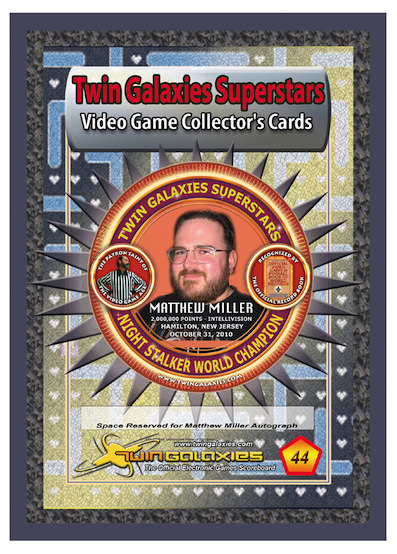 Our next Trading Card Spotlight features Matt Miller, who is displayed on
card number 44
, from the Superstars of 2011. Matt is also on Cards 1252 and 1646. Matt is an old school as well as modern gamer. He holds 56 Twin Galaxies world records and is the proudest of the record he holds on Night Stalker for the Intellivision. Matt and his fiancée, Michelle, are part of Team Mayh3m (cards 609, 1229) which also holds various records as a team. Matt also co-founded the Mayh3m Militia which is a group of gamers who actively play games to raise money for various worthy causes
.
Matt also extends his assistance in organizing and planning various Walter Day events such as ICON in Ottumwa, Iowa.
https://sway.com/LEcMTjczrSdUM1KK
If you can design your own game, what would it be about and who would be the main character?
The game would be called "Path of the ICON," and it would feature a user creatable/definable character to allow the player to make him or herself the primary protagonist. The primary objective of the game would be to navigate your created character from one of a number of select points across the world to Ottumwa, Iowa in time to meet the legendary Walter Day and attend his annual ICON event! Along the way, your character would overcome obstacles and meet numerous individuals who could either help or hinder the progress of your quest, but your greatest adversary of all would be the ticking clock!