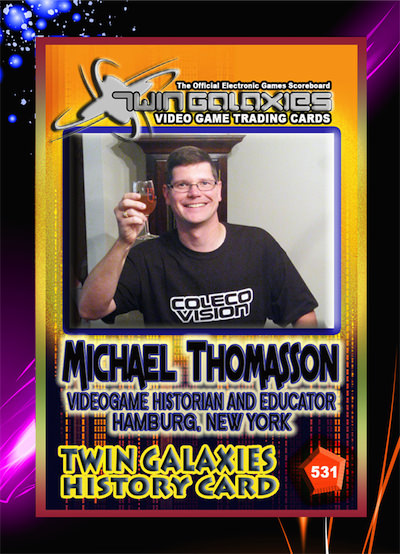 Our next Trading Card Spotlight features Michael Thomasson who is displayed on card number 531, from the Twin Galaxies Superstars Collection of 2013. Michael is also featured on card number 670. Michael is one of the most widely respected videogame historians in the field today. He has written books, published games, helped with other creators on game development and has had articles published in the newspaper. Michael is also the founder and creator of the company "Good Deal Games". He has been a classic gamer since the beginning and in 2014 became the Guinness Book of World Records as the person with the most collected video games at over 11,000.
What was the first game you ever purchased?

It was Lady Bug for the Colecovision. I saved up money from mowing neighbor's lawns and dispatched my father to pick it up for me from Gold Circle on his way home from work. I specifically remember him having me call all the local stores to find the best deal. One of many life lessons taught to by my father as a result of the videogames.