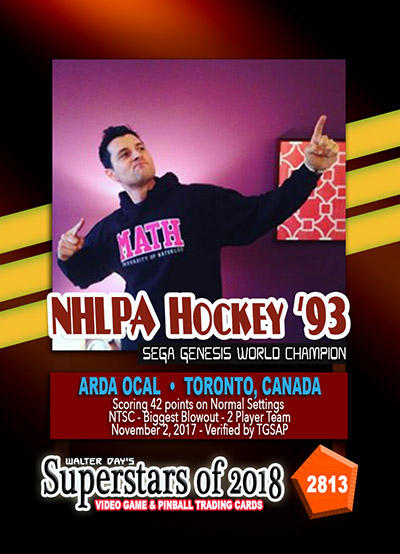 Our next Trading Card Spotlight features Arda Ocal who is displayed on card number 2813, from the Superstars of 2018 Collection. Arda is a broadcaster whose resume includes ESPN, NHL, WWE, MSG Network and many more. From being the weather reporter or a report for championship games, Arda has been all over. An avid Video Game fanatic, he hosted and participated in the 2017 NHL 94 Championship in Las Vegas. He was successful in his very first world record attempt.

What are your opinions about today's generation of video games? How do you compare them to older, classic games?
What I appreciate about retro games is that there was a big limitation when creating them: the challenge was, "make a fun game that people will want to play over and over while dealing with limited memory space, graphics and functionality". That's what makes games from the 8 and 16-bit era, that you can still play and enjoy, so impressive.Today, the possibilities are endless: games evolve at such a fast rate. In 1985, Mario was a crowning achievement. In the foreseeable future, we could literally be playing Mario in Virtual Reality. Zelda: Breath of the Wild is just mind boggling in terms of how complete and vast it is. It has to be in the conversation of greatest video game ever made.