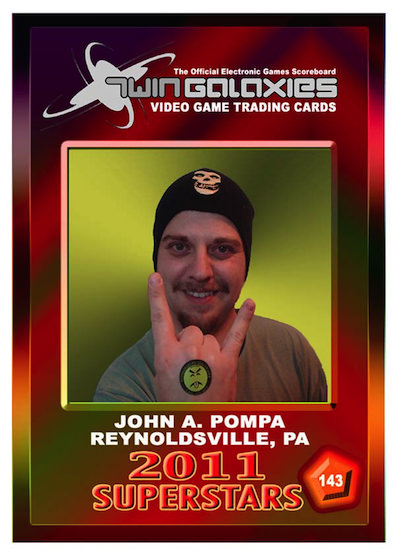 Our next Trading Card Spotlight features John Pompa who currently is displayed on card number 143, from the Superstars of 2011 Collection. With over 100 World Records on various video games, John is a true video game enthusiast. Some of the games he holds world records in are Daytona USA 2001 for the Sega Saturn, Widget for the NES and The New Tetris for the N64. Not only does he play video games, he is an avid collector of them as well. John loves challenges and feels video gaming is a great way to get through challenges in life as well. John is a supporter of Autism Awareness and feels that video games can help people with Autism in many ways.
What are your opinions about today's generation of video games? How do you compare them to older, classic games?
When it comes to graphics and stories there's no comparison really, the newer generation has it there, but I always prefer the older "retro" stuff. When it comes to replay value, the older classics is where it's at for me. I will never get sick of playing Super Mario Bros. 3, but something like Watch Dogs would be a beat once and done.