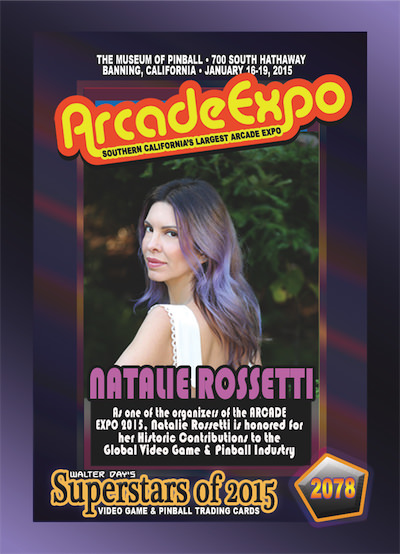 Our next Trading Card Spotlight features Natalie Rossetti who is displayed on card number 2078, from the Superstars of 2015 Collection. Natalie has been in the television and media world for many years now. She has worked on a variety of TV shows such as Fly Girls on the CW network. In 2012, she joined forces with Dave Danzara and was the videographer and editor of the documentary, "The Video Craze". She is currently in the process of another gaming documentary called "No Princess in the Castle", a film about women in the gaming industry. Natalie also owns her own film company called White Willow Films.
Do you remember your first video game / arcade you played and what do you remember about it?
I might be aging myself here, but my older brother had an ATARI 2600 in the early 80's and I had to ask him for weeks if I could try it out. When he finally said yes, I just remember staring at the screen not really knowing what a video game was exactly. I have no idea what game I played, but I'm guessing it was Asteroids.