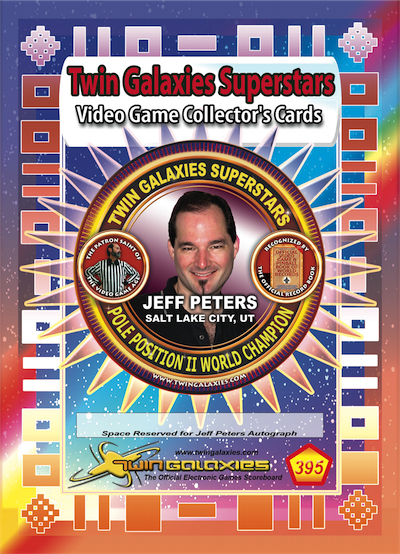 Next Saturday, October 5th, 2019 the International Video Game Hall of Fame will be inducting its new members into the Class of 2019. One of these inductees is Jeff Peters. Jeff is a well-deserved inductee as you will read below. His gaming history goes back to the early 1980's until today. Please join us in Ottumwa, Iowa next weekend and witness the new class of 2019, along with some other fun activities for the weekend.
Our next Trading Card Spotlight features Jeff Peters who is displayed on card number 395, from the Superstars of 2012 Collection. He is also featured on cards 929 and 3152. Jeff is a multiple world record holder and various titles from the Golden Age of gaming. Some of those games include Pole Position II, Domino Man, and Time Pilot, just to name a few. Along with his partner, Steve Harris, Jeff created the popular magazine, Electronic Gaming Monthly (EGM). After EGM Jeff worked for multiple companies, such as Electronic Arts and SNK. He founded the modern day USNVGT (United States National Video Game Team) with Steve Harris (joint partnership) in the mid-1980s. He has also worked on such notable properties and franchises such as Mortal Kombat, NBA Jam, Madden, Tetris, Monopoly, Metro 2033 and Tiger Woods. Currently Jeff is one of the co-founders of the Utah Digital Entertainment Network (UDEN), whose mission is to connect, inform and grow the local communities of Utah's growing digital entertainment industry.
Why Videogames?
Why not? For as long as I can remember, I've been fascinated by entertainment in all its forms. When this new video game thing came around, it changed the equation from passive entertainment (i.e. film, tv) to interactive entertainment where you control the outcome. It was you vs the machine where the goal was to beat the programming or beat the machine. When you don't really have a frame of reference for going into battle with an artificial intelligence, this was definitely something new and being the naturally competitive person that I am, the concept of getting better at these games, just like other more traditional sports, or beating the machine, definitely became appealing pretty quick.