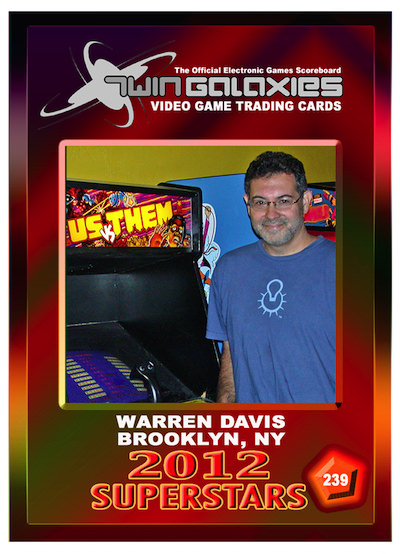 The Weekend of October 5th, 2018, Warren will be inducted into the International Video Game Hall of Fame in Ottumwa, Iowa. We look back at the Trading Card Spotlight interview I did with Warren on January 19th, 2018.
Our next Trading Card Spotlight features Warren Davis, who is displayed on card number 239, from the Superstars of 2012. The designer and programmer of Q*Bert, Warren has been around the gaming industry for decades. He has worked at such companies and Gottlieb, Williams/Bally/Midway, Disney Interactive and ILM. Other games Warren worked on are Us Vs. Them, Joust 2, T2: Judgement Day, and Revolution X to name a few. His video digitization system was used on many games including Mortal Kombat and NBA Jam. Warren is still marginally involved in the videogame industry today working with Sony on PS4 projects. His future projects will involve PSVR. Warren has also worked as an actor when not involved with gaming. He has been seen in such shows as House M.D. and Criminal Minds.
What is your favorite game you have worked on in your career?
I've enjoyed all of them in one way or another. I'm not very good at picking favorites. If I had to single one out it would probably be Us Vs. Them, because we were able to combine my love of video games and my love of filmmaking in a way that was unique and innovative for its time.