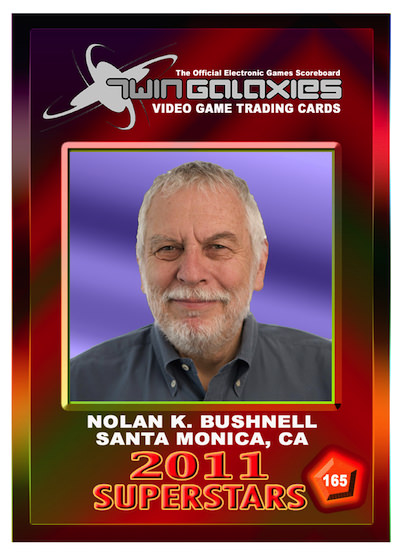 Our next Trading Card Spotlight features Nolan Bushnell, who is displayed on card number 165, from the Superstars of 2011 Collection. Nolan can also be seen on card number 821 and 1333. Nolan is the founder of Atari and Check E' Cheese as well as over 20 other companies in his career. Nolan is a pioneer in the industry and has been influential to millions of people across the globe. He was named one of Newsweek's "50 Men Who Changed America". To this day Nolan is still working on new designs for the industry. On August 9th, 2010 Nolan Bushnell was inducted into the International Video Game Hall of Fame in Ottumwa, IA. You can see Nolan in dozens, if not more, documentaries about gaming or video game related material. Some of those include Atari: Game Over and Video Games - The Movie.

Do you remember when you created your first video game or arcade and what do you remember about the experience?

My first electronic game development was modifying electromechanical games so they could operate in an amusement park setting where players could win tickets. The other game I designed strictly in software on a large mainframe that had a video display was the game of Fox and Geese. It was sometime in the winter of 1967 at the University of Utah.