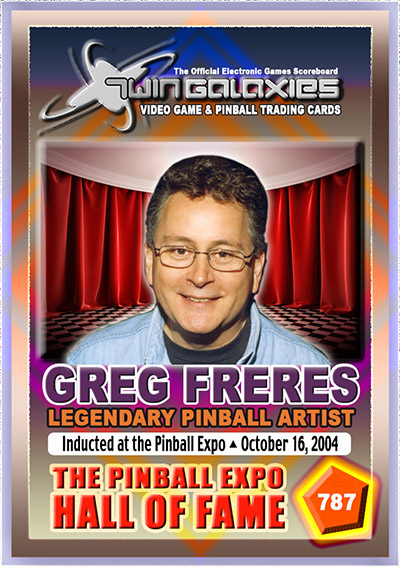 Happy Valentines Day!
Our next Trading Card Spotlight features Greg Freres, who currently is displayed on card number 787, from the Superstars of 2014 Collection. Greg is a skilled artist of the pinball world and you have probably seen his work if you have ever played pinball. Some of his work includes Medieval Madness, Star Trek: The Next Generation and Elvira. Currently Greg is the Art Director at Stern Pinball where he continues to express his art in the new pinball games. On October 16, 2004 Greg was inducted into the Pinball Expo Hall of Fame.

What was the best era for Pinball gaming in your opinion?

Each era of pinball has its own unique highlights but for me the 90's was the culmination of all elements – art, music, sound, rules, and overall mechanical tricks and gameplay. Having been in the industry since the late seventies it was great to see the growth of the overall experience that pinball had to offer as an entertainment piece.