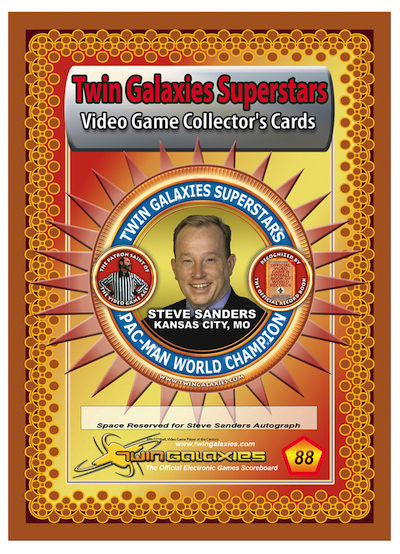 Our next Trading Card Spotlight features Steve Sanders who currently is displayed on card number 308, from the Superstars of 2012 Collection. He is also featured on cards 88, 127 (with Lonnie McDonald) and 328 (With his Son Isaiah). Steve is one of the original members of the Twin Galaxies community back in 1982. He can be seen on the famous Time Life Magazine photograph taken outside the original Twin Galaxies arcade opened by Walter Day. Steve has many world records in arcade history, including games like Donkey Kong, Joust and Super Pac-Man. He can be seen in the documentary, The King of Kong: A Fistful of Quarters, which is currently out on DVD. Steve wrote the book "The Video Master's Guide to Donkey Kong" as a teenager back in the early 80's and also competed on the "That's Incredible" Arcade Championship as a top contender. Steve currently works as a trial attorney in Kansas City, Missouri.

Do you remember your first video game / arcade you played and what do you remember about it?

My first memory of video games is playing Atari's Pong on a home console my parents bought for me in the early to mid-1970s. I was still in elementary school, so it would have been 1972-1974 time frame.