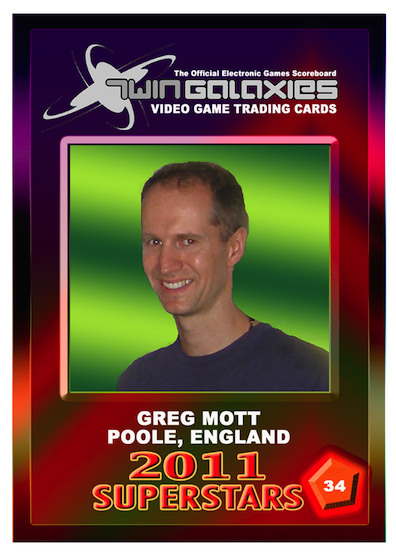 Our next Trading Card Spotlight features Greg Mott, who is displayed on card number 34, from the Superstars of 2011. Greg has been around the gaming scene since 1999 when he joined UKvac group on line and first met up with other UK collectors. He holds a record on the Buster Bros. Arcade game with a score of 2,228,150. Not only is Greg a major competitor for arcades in home country of England, he also competes in pinball tournaments and is highly regarded as one on the greatest gaming competitors in England.
Do you prefer playing video games alone, against friends or online against the world and why?
Definitely most fun is with others around and for console gaming is the only way to play with others. Just don't get the online model as was always accustomed to playing with others in the same room and a lot more fun interacting that way than with someone you don't always know remotely. Even the classics are more fun to play as a double and watch others.