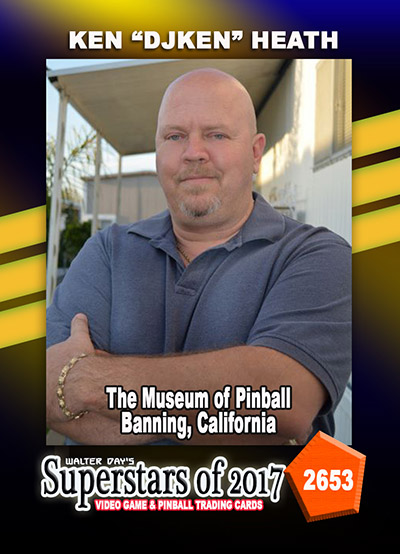 Our next Trading Card Spotlight features DJKen Heath, who is displayed on card number 2653, from the Superstars of 2017. DJKen is a talented entertainer and technician who dedicated his time and knowledge for the initial building of the Museum of Pinball and production of all its events since its inception in Banning, California. He also uses his time to make sure all the technology and machines are running smoothly during the events. Music has brought DJKen to meeting many gaming talents through the years. He is honored to be a part of the Walter Day trading card family.
What games today do you play and what are your favorite genres of games?
I own four games, two pins and two vids. "Drop A Card" (Gottlieb), "Fan-Tas-Tic" (Williams), "Maximum Force/Area 51" (Atari), and "Police Trainer" (P&P Marketing).