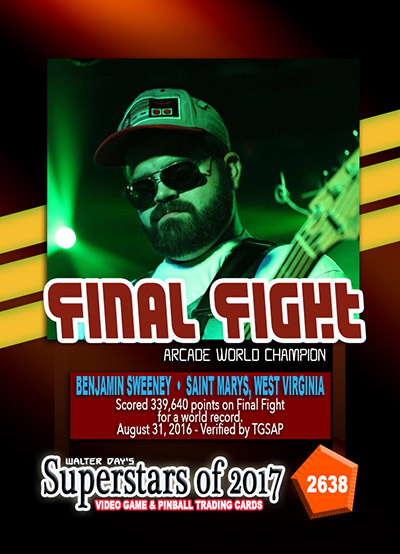 Our next Trading Card Spotlight features Ben Sweeney, who is displayed on
card number 2638
from the Superstars of 2017 Collection. When searching the Twin Galaxies International Scoreboard, you will most likely find Ben's name holding a world record. Ben has over 150 world records with 50 of them being #1 scores. Game such as Kung Fu and Kickle Cubicle for the NES. Ben is also top spot on Final Fight for the Arcade. He also enjoys music when he is not playing games and hopes to contribute as much as he can to eSports, the community, and break more scores while he's at it.
Which console company is your favorite and why? Nintendo, Sony, Sega, or Microsoft?
Nintendo is my favorite, even today. It doesn't have to do with nostalgia. It has to do with their approach to bringing gaming experiences to the world. The NES may have single-handedly saved home console gaming, while the Wii not only revolutionized how games are designed and played but also challenged the market with its price point.