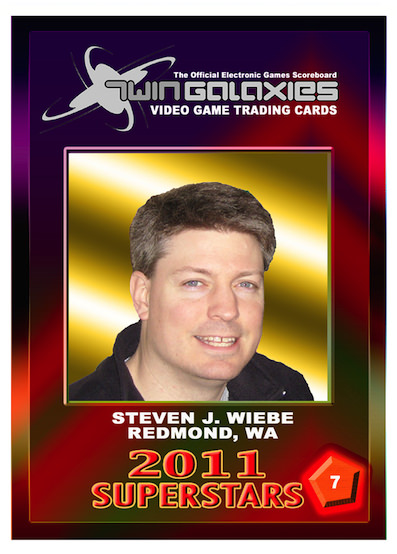 Our next Trading Card Spotlight features Steve Wiebe, who is displayed on
card number 7
, from the Superstars of 2011 Collection. Steve is also featured on cards
469
,
472
,
491
,
547
,
559
,
565
,
578
,
592
and 2239. As one of the stars of the popular documentary "King of Kong", Steve is one of the greatest Donkey Kong players in the world. At one time he held the world record on the arcade game during the classic battles with Billy Mitchell. Since then many have taken the spot and currently Steve is 11
th
with a verified score of 1,064,500. Steve has appeared on multiple shows on the G4 TV channel and has also been seen in movies such as "Four Christmases" and "Horrible Bosses". Since 2006 Steve has made appearances to try and beat the Donkey Kong score at such events as the Northwest Pinball & Arcade Show, Denver Comic-Con and 1Up Arcade/Bar in Colorado. Steve has also entered multiple Kong Off tournaments each year held by Ritchie Knucklez. Steve was inducted into the International Video Game Hall of Fame in Ottumwa, Iowa in 2010. He also has the 4
th
highest score on Donkey Kong Jr. with 1,190,400.
Do you remember your first video game / arcade you played and what do you remember about it?
I remember playing Space Invaders at a local burger joint called Charlie's. Most of the games were found in pizza parlors and 7-11 food chains in the beginning. The owner of Charlie's would give a free milkshake to anyone that scored over a certain number of points on Space Invaders. I never excelled at Space Invaders back in the day, so I'd give a quarter to one of my friends that was really good and hope he could win me a shake.