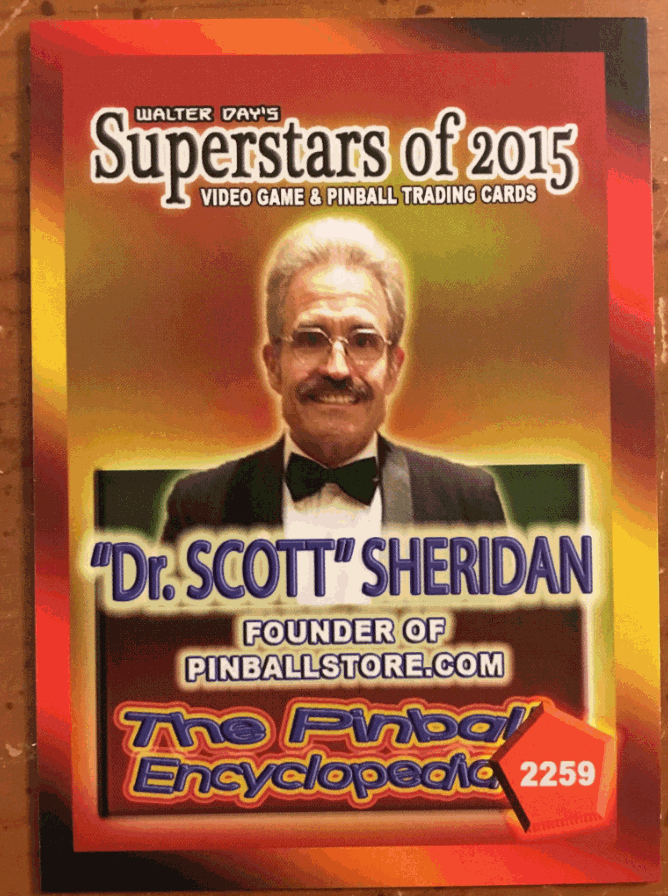 Our next Trading Card Spotlight features Scott Sheridan, who is displayed on card number 2259 from the Superstars of 2015 Collection. Scott is also featured on card number 2605. Scott's love for pinball started in college. He gradually ended up collecting pinball games and repairing them, then selling them which eventually became his career. Scott has been buying and selling games for over 40 years. "Dr. Scott's" Pinball store (
www.pinballstore.com
), started in 1995, is the place to go for pinball sales and repair. Scott's love for pinball has spanned over many generations and he has seen the industry rise, fall and rise again. Scott's pinball store is located in Maumee, Ohio.
Do you learn anything from playing pinball?
Patience and a sense of humor. Why is it that the first drop target you hit was the last target you needed on your previous ball? I believe it's my Higher Power having fun with me. Since I'm more of a tech than a player, the question can be applied to under the playfield or behind the backglass. Trying to troubleshoot a problem, sometimes it can be easy, hard or quite troublesome. The satisfaction I experience when I finally figured it out is wonderful! The really tough ones, I believe, is my Higher Power trying to teach me how to become a better tech. Then, when I discover the bug, whatever it might be, just laughing at me, I smile with gratitude as I fix it, knowing that I didn't fix it by myself.