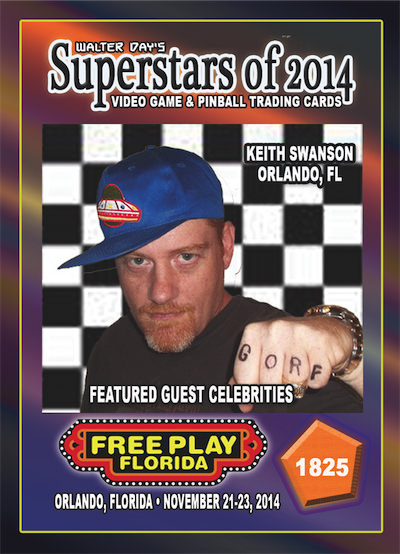 Our next Trading Card Spotlight features Keith Swanson, who is displayed on card number 60, from the Superstars of 2011. Keith is also featured on cards 972 and 1825. Keith is the world record holder of the arcade game Gorf (3 ships). His score of 1,129,660 was set in 2011. Keith also is currently in second place for the Gorf (6 Ships). Also, known as the "Arcade Doctor", Keith owns his own arcade and pinball repair business in the Orlando, FL area. He enjoys keeping the games of yesterday and today running for gamers all over to enjoy. Keith's next big project is to open up a video game bar in Florida.

If you can design your own game, what would it be about and who would be the main character?
If I designed a game it would be named after my business "Arcade Doctor". The game would be made similar to Donkey Kong instead of a plumber as Mario, it would be an arcade technician as a character and have similar but different levels such as in Donkey Kong. Maybe I will do that sometime in the future.