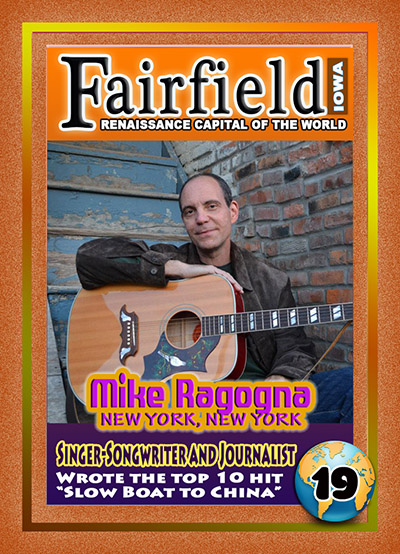 Our next Fairfield Trading Card Spotlight features Mike Ragogna, who is displayed on card number 19, from the Fairfield Collection. Mike has been a success in the music industry. He has been a singer, songwriter, producer, voiceover talent, and a journalist for most of his life. He has been involved in projects such as the musicals Annie, Hair and Big River. Mike has performed at a Bruce Springsteen tribute concert. He has recorded 7 albums—Safari in America, The Almost Brothers, Body Politic, Minefield Diaries, Writer's Block, Valentine's Day, and Summerland. Mike grew up in New York and has lived in various major American cities before coming to Fairfield where he taught music. Mike has interviewed thousands of musicians and blogs on internet sites to spread the word of music and his passion of song.

What other instruments do you play and what is your favorite?
Ears is my favorite instrument. I live vicariously through others' recordings since I had my shot and it didn't quite work out. I'd like to say I play guitar and keyboards but that would be an insult to guitar and keyboards. But I still sing and harmonize to everything, the reason why I'm no longer invited to parties or my kid's school events.